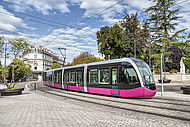 Transport
Depending on your personal situation, there are different choices that will suit you best...
Over 26 years-old
18 to 25 years-old
Count about 30 € per month for transport (18 to 25 years old) and about 42 € per month if you are over 25 years old (+5€ of personal card to pay once.)
Good to know: when you register for a monthly or annual subscription, you are automatically a part of the Divia Club, which gives you promotional offers in many shops and dijonese life places!
Dijon is the 8th most car-free city in France, and the 10th best place to live and work!